Since April 25, the Da Nang – Hue route with more air transport is a great alternative to road vehicles.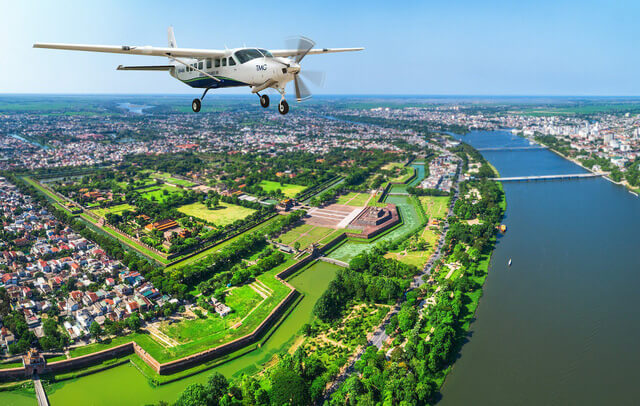 From Da Nang to Hue or vice versa, it only takes about 30 minutes thanks to the Danang – Hue route operated by Hai Au Airlines. In particular, in addition to travel needs, passengers traveling on this route also have the opportunity to see the famous sights of Da Nang and Thien Thien Hue on a height of 300m such as Hai Van Pass, Son Tra Peninsula, Han River, Cu Lao Cham, Vang Bridge on Ba Na Hill, Huong River, Ngu Mountain, Citadel, Tam Giang Lagoon …
The flight has a time of 40 minutes, including flying to see the famous spots of the city before landing at the airport (Phu Bai (Hue) or Da Nang International Airport).The seaplane that will be on this journey is the 208B-EX Cessna Grand Caravan, accommodating up to 12 passengers, one of the most powerful single-engine aircraft, safest in the airline industry.
Not only meeting travel needs for people and visitors, the addition of Da Nang – Hue flight and vice versa also contribute to promoting tourism for Da Nang, Thien Thien Hue and Central Vietnam region.
Source: toquoc.vn